The Cultural Extravaganza at Biocon Academy
October 3, 2019
2021-12-23 4:46
The Cultural Extravaganza at Biocon Academy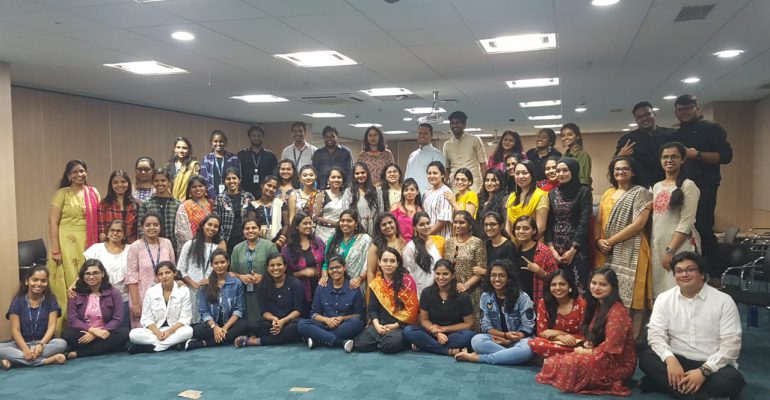 The Cultural Extravaganza at Biocon Academy
"Celebrate your life, you are your own light" – Lailah Gifty Akita
Celebrations are the most joyous moments of life and who doesn't want to a part of it.
Biocon Academy celebrated its Cultural day on 27th August 2019 to have an interlude amidst the hectic schedules. The announcement of the event came a month in advance and the minds were all encountered with zeal.
There were several committees formed in which the faculties guided the students which included sports, photography, dance, music and skit. The sports activities commenced a week before the cultural day where the students exhibited their spirit in various games such as carom, chess and scrabble.
The break sessions were completely occupied with practice sessions and auditions. The students were trained by their specific committee faculties for improvisations which even revealed their interests. The best part this cultural was fun interaction with other batch mates and the faculties.
The cultural day embarked joy where the students were seen in vibrant attires. The event kicked off with Fashion walk with the theme ''Unity in diversity'' where the students manifested different states . Followed by Fashion walk was the cliché yet frolic game the lemon and spoon.
The next event in line was the skit where a combination of mythology-fun made the audiences guffawed. The skit marked the importance of humanity, relationships amidst the technological world and the consequences of rash driving in a funny portrayal and how the heavenly folks Mr. Yamaraj and Chitragupta manage their pickup data.
Followed by the skit was the one on one dance and music performances. May it be a Punjabi tadka or a Desi swag, western moves or south Indian folk, the students gulped their exuberance and rocked the floor. The soul soothing and blissful singing by the students was an amazing treat.
The students were grouped in a team of three for Tug of war where the teams namely Yamaraj, Devil and Warriors competed and much to everyone's amusement the rope couldn't retain its strength and broke. The rope had to be joined again for other teams which was a wrap up for the events.
Apart from the live performances there was a mini exhibition on painting, photographs and handicrafts. The theme for photography was Joy and the beautiful captures were hanged on the walls with befitting captions. The magnificent paintings with extreme finesse reveled the virtuosity side of the students
Profile:
Written by: Tanmayee, Biocon KGI Certificate Program in Clinical Development, Batch 2