Insightful Session on Quality Control Microbiology
December 16, 2016
2022-01-03 9:37
Insightful Session on Quality Control Microbiology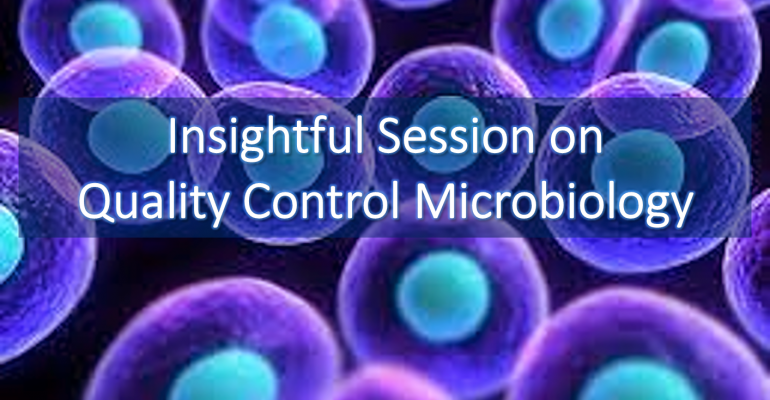 Insightful Session on Quality Control Microbiology
The 16 week customized curriculum of Biocon KGI certificate program encapsulates classroom sessions by academic experts from KGI, professional; personality skills development sessions by Industry experts and brilliant guest sessions by Subject Matter Experts. The course content of the program is designed in a manner that it provides a holistic understanding of application of academic concepts in an Industry scenario by well planned training modules conducted by academic; industry experts.
One such mind-boggling session was conducted by Mr. Anto Stephen on Quality Control Microbiology. It was yet another day at the Biocon Academy and all of us were occupied with discussions of the online sessions and assignment deadlines to meet. Amidst this, at around 11 am, Mr. Anto Stephen walked in the classroom to conduct a guest session on the topic of Quality Control Microbiology. Since, most of have Biotech background and haven't been exposed to the nuances of topic during our past academic experiences, we were all keen to soak up the knowledge and improve our understanding of the subject from Mr. Stephen.
Mr. Anto Stephen who currently holds a senior position in the Quality Control Microbiology Department at BIOCON, is an extremely knowledgeable individual with rich experience of working with some of the leading Pharma Companies in India. His style of presentation and presence instantly got us us hooked to learn more and more through his session.
The session started with a brief introduction of Quality Control Microbiology domain and then dwelled upon the details of how it plays a critical role in Pharma & Biopharma companies. Mr. Stephen also, emphasized on the skill sets required to excel in the Quality Assurance and Quality Control roles in this department. Highlighting on the application of the topic in an industrial set-up, his presentation provided an in-depth understanding of the possibilities of microbial contamination in pharmaceutical products and how these have to be evaluated in terms of the use of product, the nature of the product, and the potential hazard to the end-user.
He then touched upon the basics, as to what could be the possible source of contamination's and explained the different methods and safety precautions that should be practiced to avoid it. His talk mainly emphasized on how safety is of prime importance in a process of developing lifesaving drugs and the role played by Quality Control Department to ensure the same. In order, to ease our understanding he crafted a small role play model, through which he indicated the possible incident of drug spillage in a clean room and the required corrective measure in compliance with the CGMP guidelines that one has to follow during such instances. The way he presented his ideas was incredible and helped us to develop a thorough understanding of the topic.
He concluded his presentation with a very inspiring quote stating that "Attitude is a small thing which can make a big difference" insisting that we should inculcate positive and right attitude toward our work. The session was very informative, and I look forward to be a part of such discussions in future where I could collate border knowledge through experts from pharma industry.
Written by: Khushbu Kumari, Biocon KGI Certificate Program in Biosciences.