In Conversation with Guest Lecturer – Dr. Narendra Chirmule, CEO & Co-Founder, SymphonyTech Biologics.
September 29, 2020
2021-10-25 10:27
In Conversation with Guest Lecturer – Dr. Narendra Chirmule, CEO & Co-Founder, SymphonyTech Biologics.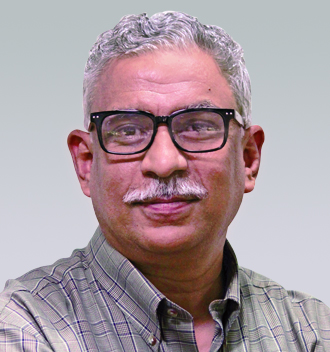 In Conversation with Guest Lecturer – Dr. Narendra Chirmule, CEO & Co-Founder, SymphonyTech Biologics.
How was your experience as a guest lecturer at Biocon Academy?
Biocon Academy provides an excellent canvas to paint (present) a wide range of topics, from deep scientific subjects in drug development to improving soft-skills. I have loved the interactions I have had with each in the class.
Your lecture was centered on 'New Trends in Drug Development of Biologics using Data Analytics'. Can you tell us in brief about the importance of data analytics when it comes to drug development?
Data is the new oil. Very large amounts of data of different forms is becoming available. Organizing, analyzing, interpreting and applying this data is going to become very important in all aspects of drug development.
Data science can help in R&D of new drug therapies. Kindly elaborate.
Data comes in many forms. Scientific subjects range from molecular biology (genomics, proteomics etc), process development (process materials, conditions etc), pharmacology, toxicology, to clinical trials. Integrating all these data into the final regulatory dossier to demonstrate efficacy and safety of drugs is an "art". [https://www.flickr.com/photos/64644862@N03/]
The need of medical science is shifting gradually towards Biologics. What are your thoughts on this phrase?
Report this ad
While biologics are the "new kids on the block", each modality has its pros and cons. Small molecules are affordable and can target precise molecular structures; the unexpected toxicities are generally higher. Biologics are very specific in their interactions with ligands and have long half-lives; these molecules have limited bio-distribution. Gene and Cell therapies have emerged as new modalities which contribute to the repertoire of arsenal of platforms.
How data repositories can help in optimizing chances of success in clinical studies?
Data repositories are like libraries of information. One must read the books to gain wisdom.
How do you view the future of R&D in pharma & biopharma industry?
Bright. With the advent of new technologies in biomedicine, information technology, engineering science, etc. R&D organizations in pharma are at an inflection point of enormous growth. Only a few hundred genes of the 30 thousand genes in the human genome have been targets of drugs. Extremely bright indeed.
The science in the field of medicine & drug is revolutionizing rapidly. What are your thoughts when it comes to new drug discoveries?
The synergies of fields of science and art are going to be the important tools for the future employee. 5G, Quantum computing, highly efficient omics techniques, data analytic software, virtual reality imaging, single-Angstrom-level structural analysis capabilities are just some of the major advances that will transform medicine and drug development.
Tell us more about your new venture and what motivated you to found SymphonyTech Biologics Ltd.?
Ravi Khare and I have been friends since we were 15. Blessed Soulmates. Starting a project and working together has been a dream for us since we first built a fuss-ball table with extreme carpentry and earned our first monies (circa 1980) [which we promptly spent on ice cream].   While Ravi pursued a career in an entrepreneurs' journey in mechanical engineering, I followed my path of biology and drug development. Four decades later, we have started SymphonyTech Biologics, whose tag line is our own personal story "exploring the space between engineering and biology". We are doing projects which range for developing systems to collect data, analyze data, and interpret data through simulation and modelling. We have written about this experience in this blog: "bridging the chasm between engineering and biology". [https://www.linkedin.com/pulse/bridging-chasm-between-engineering-biology-ravi-khare/]
---
Dr Narendra Chirmule delivers guest lectures at Biocon Academy on a regular basis. He is currently the CEO & Co-Founder of SymphonyTech Biologics. Before embarking on his mission to establish SymphonyTech Biologics, he was the Senior Vice President and Head of R&D at Biocon. He is also a member of Scientific Advisory Board for Immuneel. He has a vast experience with global pharma companies such as Amgen, Merck, Cipla, etc.
He holds a PhD on development of a leprosy vaccine from Cancer Research Institute, Mumbai, and has completed his post-doctoral studies on pathogenesis of AIDS from Cornell University Medical College-North Shore Hospital, and taught immunology at the University of Pennsylvania.
He is an amateur musician and plays a variety of rhythm instruments. He has recently started learning the flute and vocal music in the Dhrupad style. He actively worked on promoting Hindustani classical music in Los Angeles (Rupak School of World Music) and Philadelphia (Sangeet Society). His passion is to "get folks together" to play music, using soundscapes and drum circles. He has also delivered an inspiring TedTalk on Biotechnology: Inflection Points for Success which was indeed thought-provoking.