BiOZEEN Visit: A learning opportunity
January 31, 2019
2021-12-29 5:37
BiOZEEN Visit: A learning opportunity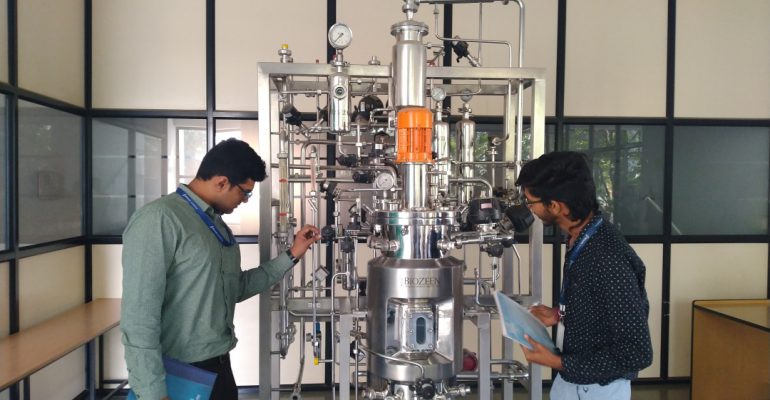 BiOZEEN Visit: A learning opportunity
Life was going good in Biocon Academy with lectures from KGI faculties, a bucket load of presentations & assignments every week and regular functional visits. After the Christmas celebration, we were told that we had to go for hands-on training to Bengaluru-based biopharmaceutical services company BiOZEEN, which is about a couple of hours away from the Biocon Academy. The traveling itself sounded like a herculean task given the fact that Bangalore is known for its traffic.
Early in the morning, amidst the coldest recorded temperatures in recent times in Bangalore over the past decade, we had to wake up and get ready just so we could reach BiOZEEN at earliest. But you know, there's something called traffic, which never helped us reach there on time.
The training was scheduled for about a week and we all were excited about it. From Day 1 to Day 6, we exhibited our enthusiasm and made the utmost use of this hands-on training offered to us. To start with we were split into two batches; the first batch to learn about the seed fermenter and up-scaling parameter and the other batch has to work on Piping and Insulation Diagram (P&ID), SIP (Sterilization-in-place), CIP (Clean-in-place) and fermentation procedures in a pilot-scale plant for the first three days, then switch to the other lab for the next 3 days. We were also informed that there'll be an evaluation on the final day.
Our trainers Elizabeth Eldo and Julie Mathew, taught us each concept in the best way possible. As a part of the hands-on training we had to trace the pipelines going in and out of the fermenter in both seed and pilot scale fermenters, understand about the importance of steam traps, how CIP is performed, and the critical quality attributes to be considered during the scale-up process.
Like school kids complaining about going to school after holidays, we had the New Year blues as well. While the entire Bangalore city was celebrating New Year's Eve by bursting crackers and rockets, the exhausted us were sulking over the fact that we had to attend the training on 'New Year' as well.
Drawing P&ID for pilot scale fermenter was rocket science for us at the beginning of the training, but by the end of the 5 days, we were able to trace each line separately and complete the entire P&ID with utmost perfection. We had to project our P&ID to Mrs. Elizabeth Eldo on the last day. Every one of us had to sacrifice their sleep to complete it on time and personally, I felt happy that I was able to do it clean and neat.
On the sixth day, as a part of our training, we had to present our P&ID and get it verified personally by Mrs. Elizabeth. Later we had our evaluation, which was well anticipated. Despite a lot of ordeals the students had to face, it was a fun-filled week with a lot of memories to cherish in the future. For me the important takeaways apart from what we were taught was sharing knowledge, working as a team to solve problems and being compassionate enough to help others.
Learning happens when we are eager to delve into the subject. The hands-on experience at BiOZEEN helped us to get a comprehensive overview as to what engineering is behind the sophisticated bioreactor instrument, and it goes without saying that we enjoyed every bit of the learning experience!
Written by: Balaji S S, Batch 13, Biocon KGI Program in Biosciences