Making a Difference: Visit to Hennagara School & Hebbagodi Lake
February 1, 2019
2021-12-29 3:19
Making a Difference: Visit to Hennagara School & Hebbagodi Lake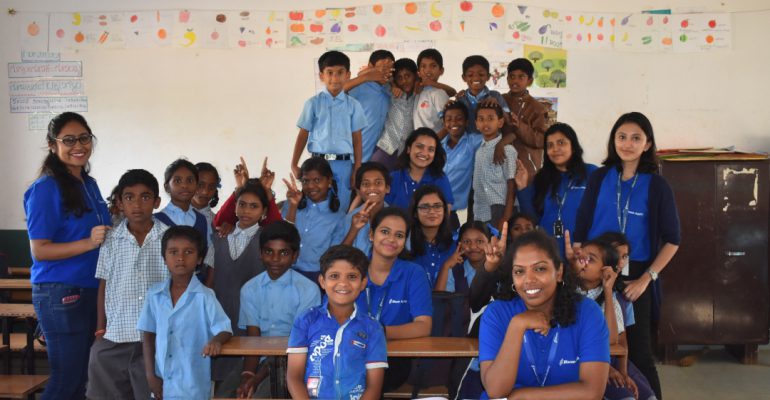 Making a Difference: Visit to Hennagara School & Hebbagodi Lake
Biocon Foundation, a CSR wing of Biocon has commissioned classrooms & well-equipped healthcare facilities at Hennagara Government Primary School, to encourage school and junior college enrollment for underprivileged children. As a part of its efforts to ensure environmental sustainability, Biocon Foundation, with approvals from the Karnataka Lake Conservation and Development Authority (KLCDA) and other government authorities, has also brought back to life the dying 35-acre Hebbagodi Lake, leading to a significant improvement in the water quality and the return of flora and fauna. A public space has also been created around the lake in the form of a children's park and walkways for recreational activities.
We Biocon Academy students were fortunate enough to get an opportunity to visit these wonderful CSR initiatives of Biocon as part of our extra curricular activities. Providing us with a much needed break from our crammed schedules. The village of Hennagara, located in the outskirts of the bustling city of Bangalore, seemed to offer us a niche of tranquil and solace.
It was amazing to interact with the children at the Hennagara Primary School. They reminded us of petite buds, yet to blossom into captivating flowers. They didn't think twice before mingling with us, touching our souls with their innocent acts and smiles. Needless to say, they were thrilled to engage with us in the playful activities that we organized in their classrooms.
We ventured into some fun activities with the children. The joy on their faces when we bestowed them with various goodies was priceless. Their energy and the bright beaming smiles showed us how happiness lies in the smallest of things of life.
Every actions showed their simplicity which moved each one of us from within. It wouldn't be an exaggeration to say that all of us traveled back to our childhood and re-lived it again. It was with heavy hearts that we left the school premises, each of us thoughtful and inspired.
Our next stop was Hebbagodi Lake and Children's park, which was few kilometers away from the Hennagara Primary School. We were astound to know how they had used daily dosing of enzymes, cascading aerators, and submersible mixers in the lake to enhance the level of dissolved oxygen in the water and how floating wetlands were deployed for continuous natural cleaning process.
Once a garbage dump, has now marked its entry into the Limca Book of World Records, for having India's largest floating island. Today the lake boasts of clean water, and an exceptionally spick and span ambience.
To top it all, it was an enthralling and an inspiring experience to see how Biocon Foundation is toiling to nurture the habitat and the inhabitants. Biocon's business practices go beyond compliance, thus contributing to the larger goal of sustainable development and as a socially responsible organisation they strive to instil the same sense of compassion and care in us.
This trip was something that will always remain close to our hearts, for a lifetime.
Written by: Sneha Das, Batch 13, Biocon KGI Program in Bioscience