A Experience of lifetime: Inspirational Talk by Dr. Kiran Mazumdar – Shaw
January 3, 2017
2022-01-13 4:13
A Experience of lifetime: Inspirational Talk by Dr. Kiran Mazumdar – Shaw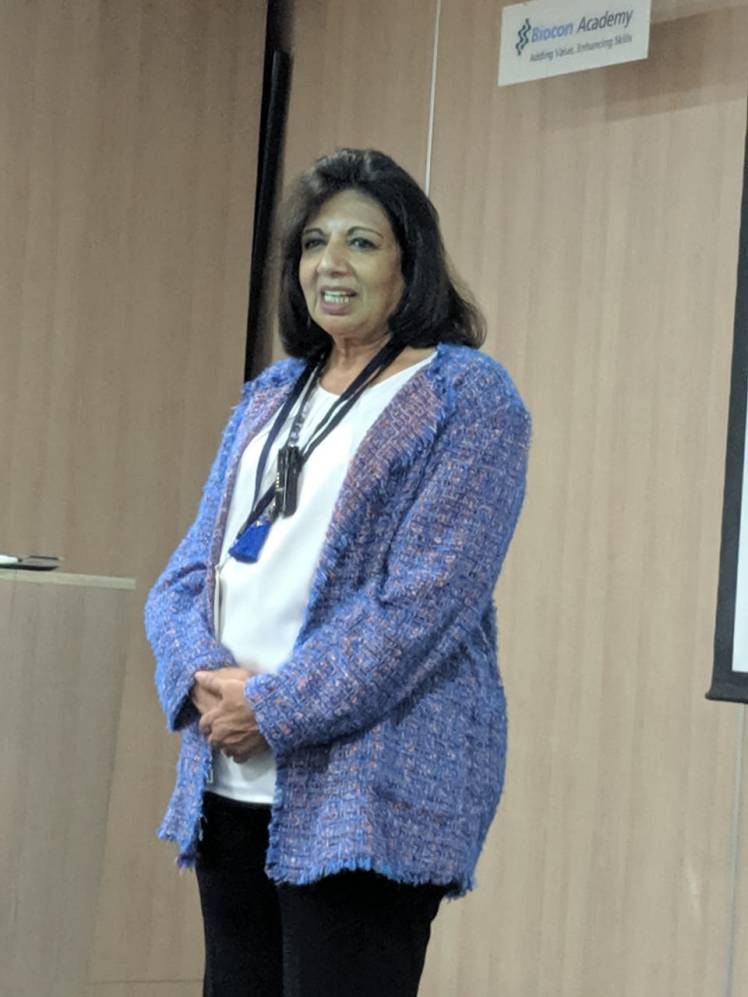 A Experience of lifetime: Inspirational Talk by Dr. Kiran Mazumdar – Shaw
One of the most successful entrepreneurs of India and the chairperson of Biocon – Kiran Mazumdar Shaw was nothing more than a famous name for all of us until 16th September 2015 – a name, and with that, an image of a fiercely determined, charismatic and inspirational woman.
One of the perks of being famous is that you do not really have a chance to make a first impression. Everyone already has an impression of you before you meet them. However, Kiran Mazumdar Shaw was every superlative as the media describes her and more.
We were already squirmy with nervous excitement when we received the news about meeting Dr. Kiran Mazumdar Shaw who went from being a brew master, to setting up Biocon in 1978 and then steadily expanding it to one of the top biotech companies in Asia.
So accustomed were we to the completely unfashionable style of people being 'fashionably' late, that we were pleasantly surprised to see that Kiran Ma'am had reached before the scheduled time. She was here to make a lasting impact on our minds and she had already achieved what most people failed in – 'Punctuality'. Our respect for her went several notches higher at this.
She spoke to us about the progress Biocon has made in the development of life saving drugs and how important it was to have the spark of innovation, but also how equally vital it is to make that innovation affordable. She also gave us a much needed insight into the overall functioning of the industry and enlightened us about the varied opportunities available in the field of Biotech. The inception of Biocon academy was done with an intention to provide students with an exhaustive curriculum that would encompass all the knowledge one would require to enter the industry as confident professional. She particularly encouraged women to take this chance to develop their career and to stop associating womanhood with weakness. After all, Kiran Ma'am hascreated a niche for herself in an industry which was not known to have women leaders.
We also had an opportunity to interact with her and clarify all our queries – I voiced my concerns on how the perception of the people regarding GM crops could be changed and how the farmers could be made more aware of its benefits; as many NGOs are responsible for promoting an unhealthy image of genetically engineered crops. Her answer was reassuring in that farmers knew what gave them the best yield and these GM crops (BT Brinjal as a recent example) were evaluated and approved by the GEAC, and that the NGOs should conduct their research before promoting false information, especially about a technology that has great potential to revolutionize our agriculture industry.
She had inputs for a fellow classmate who wanted to know about public or private domains that would provide an opportunity to entrepreneurs for showcasing their ideas for start-ups and suggested incubation centers at different universities and research centers as the ideal platforms. She also stressed on the benefits of running a pharmaceutical industry that differed from others in the fact that it was more pro-people than pro-revenue.
Each of our questions was met with a confident and encouraging answer from her side. She reaffirmed our faith that Biocon academy was the way to increase employ-ability of fresh graduates and enable them to carve a niche for themselves in their careers. At the end of the day, we have her to thank for this wonderful brainchild of hers that is Biocon Academy and only hope that this 5th batch will prove our worth here.
"I want to be remembered as someone who put India on the scientific map of the world in terms of large innovation. I want to be remembered for making a difference to global healthcare. And I want to be remembered as someone who did make a difference to social economic development in India."
And she will be.
Written by: Arabhi Pushpaja, Biocon-KGI Certificate program in Biosciences.