Purpose, Patience and more…
June 3, 2019
2021-12-29 3:11
Purpose, Patience and more…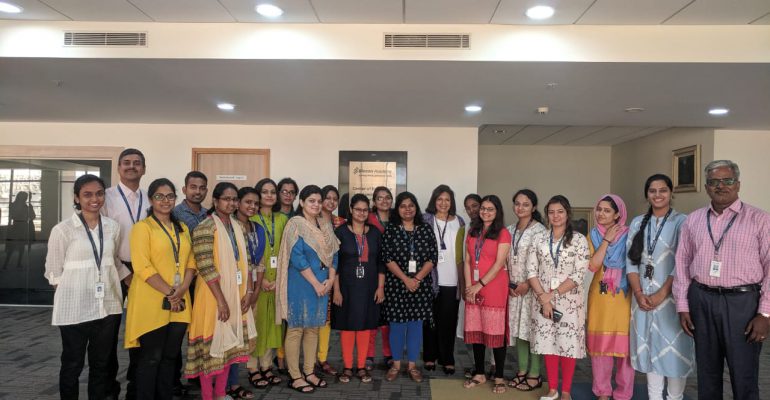 Purpose, Patience and more…
Stepping into adulthood is a task in itself. Building a career is a bigger one. I have often found myself lost trying to walk through the maze of the scientific world, and wondered why I am here. The past three weeks in Biocon Academy have lighted up the maze and a much bigger source of light has been Kiran Mazumdar Shaw, who we recently had a chance to meet at Biocon Academy.
She is an inspiration in herself and a woman who created her own path. She is a first generation entrepreneur, who has made her country proud with a globally recognized bio-pharmaceutical enterprise, which is committed to innovation and affordability in delivering world class therapeutics to patients worldwide. I was certainly anxious and curious about how our interaction would be. However, once she walked in, I was at ease. And that one hour turned out to be the most inspiring one of my life. She brought a positive aura with herself into the room and I found myself being carried away with her charm already. After greeting us warmly & merrily, she started to share with us that how crucial was the selection process to select us for this program and how they seek to train us perfectly and make us industry ready to help us kick-start our career with right amount of industry knowledge and skills.
She then talked about how each discipline of life sciences is crucial to the pharmaceutical industry, and how our ultimate aim is healthcare. Microbiology comes into play when we deal with infectious diseases since microorganisms are present everywhere and each process that leads to a pharmaceutical product needs a contamination check before it reaches the market to assure a safe product. She shared her knowledge about how vaccines are developed by taking biotechnology into the picture. She also talked about how there has been an emphasis on machine learning and artificial intelligence in the world of Biosciences.
She talked about where India falls in the pharmaceutical sector in the world and over 2.5 million lives have been touched owing to various generic drugs and biosimilars. Biocon as a company wants to make a difference to all the patients, since they are the beneficiaries of all research and development. Biocon is currently the largest manufacturer of Insulin in Asia and the fourth largest in the world. It aims to cater the insulin needs of 'One in Five' Type 1 Diabetes patients. Biocon also stepped into immuno-oncology & bi-functional antibodies, where it aims to provide affordable access to biosimilars.
While I was listening to all the knowledge she just shared in complete awe, I also understood the great importance of this course and how it is going to transform me into a skilled professional. I got a clear understanding that how my everyday contribution will help in making a difference that will directly affect millions of lives worldwide. Kiran Ma'am also spoke about how important it is to have a sense of purpose while we work, to always have a major end goal in mind. It is what has kept her going forward in life when she began her journey at the inception of Biocon India, and it would help us move forward too. I now understand that having a deep connection with what we do is very important, especially when we are touching lives. Since nothing comes easy, patience is the key.
Biocon has been a company with strong ethical values and no tolerance for corruption. Sense of purpose, integrity and ethics is also reflected when they partner with various stakeholders like doctors and organisations. Being associated with Biocon and Biocon Academy fills me with positivity & motivation.
As the session came to an end, we had a chance to interact with her where she told us how excited she is about new areas of research. Indeed, there is so much in the world left to solve! The scientific world is a maze, and an ever expanding maze. We can always walk through it clueless about what lies ahead, and may accidentally hit gold. All we need to do is discover our sense of purpose, and work with integrity and ethics, which will lead us to our ultimate goal.
Written by Palak Malviya, BITS Biocon certificate program in Applied Industrial Microbiology, Batch V