Hands-on Training: Five Days at Biozeen
June 26, 2019
2021-12-23 5:26
Hands-on Training: Five Days at Biozeen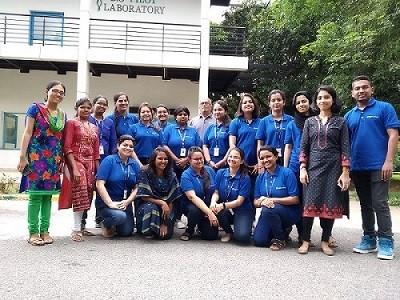 Hands-on Training: Five Days at Biozeen
Biozeen provides a comprehensive and in depth practical hands on training for the Biopharmaceutical and Biologics Industries. Its mission is to provide a unique learning experience in a real-life environment, which enables candidates to master the skills to work and excel in their professional sphere. All their programs are developed in association with various industries and designed to bridge the gap between theoretical knowledge and its practical industrial applications.
We had a wonderful and memorable experience in Biozeen during these five days. The journey to Biozeen was really interesting and we used to enjoy a lot. The 32 seater bus was arranged by Biocon Academy. We used to play "anthakshari" and we used to have lot of fun activities throughout the journey. All the five days we had an opportunity to perform different experiments and worked together in teams. Overall experience was enlightening as well as fun filled. We were provided with refreshments to start our day fresh. They had also provided us with appetizing and delicious South-Indian lunch.
Day 1: We were all excited about the visit and gathered at the academy at 7:15 and after signing the attendance sheet we started from there and reached Biozeen at 8:50 am. We had an introductory class by Dr. H. Nellaiah who explained about the basics of Microbiology and about goals and vision of Biozeen which was really informative. Then we had our lab session which was dealt by Ms Priyanka, Ms Aishwarya and Ms Sreedevi. We performed plating, settle plate assay and finger dab test. We also prepared YPD media for dry and wet weight estimation and lactose broth for most probable number (MPN) estimation. By 4:30 pm we left from there.
Day 2: With all enthusiasm few of us started from academy at 7:20 and few joined on the way. We reached there at 8:45 am and had a lecture by Dr.H. Nellaiah about the experiments we were supposed to perform. That day we performed simple and gram staining and were so excited to observe our slides that we literally fought for microscope. We also prepared EMB agar. We observed our results for settle plate and finger dab test and inoculated for dry and wet weight estimation for MPN afterwards we did demonstration of non-viable particle counter. By 5:30 pm we all pack our bags and leave from Biozeen.
Day 3: It was an exciting day in lab, where we prepared YPD agar for total viable count assay and membrane filtration plating, saline solution for serial dilution, starch agar for α-amylase production assay, skim milk agar for casein hydrolysis assay, nutrient agar and lactose broth for complete test. We carried out serial dilution of Pichia pastoris culture, spread plate for total viable count assay, membrane filtration and spread plate and prepared agar slant for complete test. We observed presumptive test result and streaked EMB plate for confirmatory test.
Day 4: After 3 days of work, fourth day also started with complete enthusiasm. This day was little hectic with a session by Dr.H. Nellaiah, followed by sessions of experiments in the lab. We enjoyed working in group, and were able to successfully complete the experiments with team spirit. We carried out preparation of nutrient broth for growth curve analysis, wet weight and dry weight estimation by gravimetry, correlation of gravimetric analysis with spectrophotometer instrument after that we did streaking on skim milk and starch agar, and observed our results for confirmatory test and inoculation of the colonies from EMB plate to nutrient agar slant and lactose broth solution.
Day 5: Evaluation Day! The last day at Biozeen. We were all tensed about the exam but one relief we had was that the exam will be a set of multiple choice questions. As usual we reached at 8:45 and started our lab session after the lecture by Dr. H. Nellaiah. We performed growth curve analysis, observed the results for starch and skim agar hydrolysis, total viable count, membrane filtration assay and complete test then we estimated the dry weight and carried out correlation analysis. We had our exam in evening and was graded at the same time. The day ended with a week full of learning and fun. Only memories remained. Before leaving we all had a photo-shoot with the staffs of Biozeen.
The five days experience was really memorable and useful. The days flew away in a blink. We were able to learn a lot of things and also enjoyed thoroughly in this short period of time. The Biozeen staffs and facilities were really good and supported us a lot to make this hands-on training a great success.
Written by: Anusha Jayagopal, Batch 5, BITS Biocon Certificate Program in Applied Industrial Microbiology