A step into Biocon Academy
February 13, 2020
2021-12-22 3:06
A step into Biocon Academy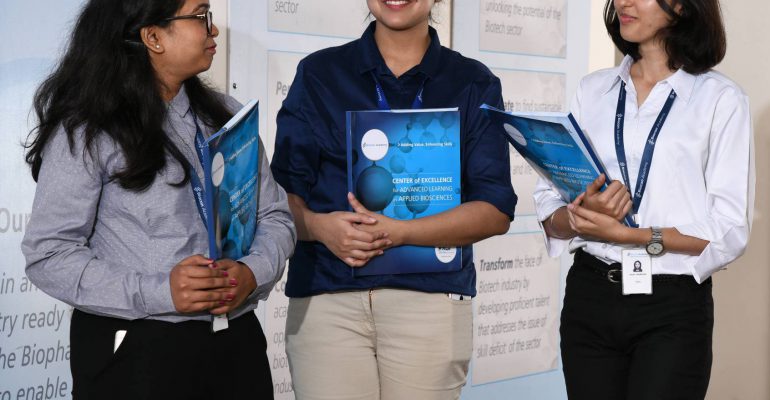 A step into Biocon Academy
Wondering what's the next path after graduation or thinking of switching to a new stream, I am sure everyone went through that phase of scepticism. It would have surely boarded on to people from Biotech/Pharma background. In spite of having many pharma industries across India, the industry is still facing talent crunch. The primary shortage being the gap between the knowledge gained through books and the practical application of the same. As the industry is growing in elevated speed, it is essential to come up with the solution to bridge this gap.
Biocon, an innovation led fully integrated biopharmaceutical company, came up with the idea of starting an academy which will open the doors for the upcoming generation, willing to succeed in the industry. The aim is to train students and enhance their skills and make them industry ready which will in turn aid in the growth of biotechnology sector in India.
Biocon academy provides high-grade novel programmes like biosciences, industrial microbiology, clinical development which not only offers theoretical knowledge but also industrial experience. Also, the professional skills trainings is a major focus area which helps in the development of professional job skills and the qualities required to excel as a leader or a professional.
Till date, 500+ students have been graduated from Biocon Academy. Biocon Academy aims higher to develop high-end talent for the biotech/biopharma industry. They haven't stepped back as they are coming up with different strategies to enlighten the young professionals. The environment brings in different diversities of people from different parts of India, different background of work experience and culture, well experienced and also faculties. This gives a great chance to interact, gain more knowledge and definitely evolve as a professional person.
I surely found my stepping stones to accomplish myself in the industry. The course gave me much more than the industrial knowledge. Surely, Biocon academy has helped me in true essence in building thinking skills, boosting confidence and molding myself as a person. The quote of Dr. A.P.J. Abdul Kalam perfectly fits in with Biocon Academy's weapon in getting the most out of each of their student, "One of the very important characteristics of a student is to question. Let the students ask questions".
Definitely, the vision and initiatives of Biocon Academy is heading in the right direction!
Profile:
Written by: Nandini Muthuvelan, Biocon KGI Certificate Program in Biosciences, Batch 16