A day to cherish- Cultural Day
July 12, 2019
2021-12-23 5:18
A day to cherish- Cultural Day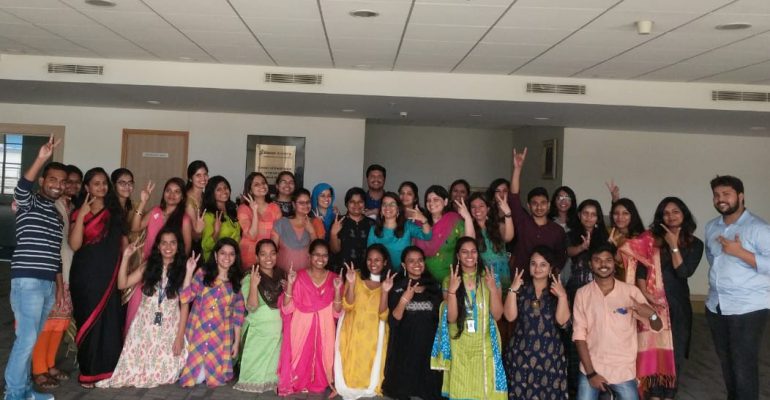 A day to cherish- Cultural Day
The first few weeks at Biocon Academy were overwhelming with Classroom sessions, assignments, lab visits, guest lectures and multitude of activities planned back to back. Apart from everything studies, classroom sessions and the pressure of exam each day was the only enjoyment we thought we have.
The 'Cultural Day' celebration offered us a unique opportunity to be re-energized by connecting with our batch-mates as well as with the Biosciences program batch-mates and also faculty in an informal setting. This day was one of most memorable experiences for us and we will truly cherish these memories all our lives.
The announcement of the event came a week in advance and stirred a wave of enthusiasm and energy among all of us. The thought of having a break amidst the hectic schedule heightened the excitement to prepare for the event was unlimited.
We were told to prepare a skit on "Future gadgets" in a comic way. We were divided in five groups. The groups were collaborated with the Biosciences batch students and we were supposed to share the video before cultural day. Each group came with different ideas and each group members took different role for preparing the skit.
The event began with playing our comic movies infront of all faculties and batchmates.
After that we had a dazzling ramp walk, and each one of us walked the ramp with panache.
This was followed by a very interesting game "Minute to win". In this game each team choose a number between 1 to 6 and each number was assigned with a unique game to be played in one minute. It allowed us to have loads of fun while we participated in the fun games.
The next in line was the most exhilarating and nail biting session of a Quiz and Antakshari. We thoroughly enjoyed this activity as it tested our intelligence on various movies and songs. We also had to sing a song in a unique way apart from its original genre. As the antakshari had three rounds and each rounds had different rules. This activity filled the entire room with banter, giggles and all of us hooting for each other. It was absolute fun.
The climax of the day was exploring our hidden talents. We indulged ourselves in various fun activities such as dance, song and mimicry. After finishing off with thrilling activities we were overjoyed to have cakes and delicious snacks.
The daylong event culminated with a video that was on the our journey at academy.
This day was truly the most amazing day of our short journey at the Biocon Academy!!! We will definitely cherish these memories for years to come and we are truly gratetful to be a part of the program that ensures learning while having fun.
KUDOS! to the team at Biocon Academy for planning such a wonderful event.
Profile:
Written by Arpita Basak, Batch V BITS Biocon Certificate Program in Applied Industrial Microbiology